-Reading Back Row: 101-

This is just a small guide for newer players on how to attempt to read what your opponent set. I hope you enjoy.
First off lets start of with something easy:
Lets say you summon Black Luster Soldier in attack position and your opponent has 1 face down set.
Now that Black Luster Soldier has been summoned we can determine two things:
1.
The card is not a Solemn because if it was they would have negated the summon
2.
The set card could possibly be a card such as Mirror Force that needs to be activated when attacked

Now lets say you've attacked for 2 turns and he doesn't play his set card-
This could also mean 2 things:
1.
The set card is something that there is no point in activating yet such as Call of the Haunted
2.
It's a bluff
Now lets say your opponent sets one card next to the card that has not been activated for 3 turns-
This is what this may mean:
1.
The set card may be something that could be used as a response
2.
It could be another bluff to try to "scare" youThings you could do:
1.
Use Mystical Space Typhoon on the card just set

2.
Take the risk and attackSolemn Warning:
Lets say you notice your opponent has 1 face down card and you are just about to summon
Judgment Dragon
he would have to activate their set card immediately or else it would be destroyed because of
Judgment Dragon's
effect.
Now a second response to Judgment Dragon would be Effect Veiler negating it's effect and keeping their face down card from being destroyed.
This could reveal the face down card may still be a Solemn Warning
Sometimes your opponent will also try to protect their back rows.
When they set more than one card it usually means only one of them can really protect them.
Real Life Dueling-
Another handy tip if you duel in real life would be to
MST
the card closest to their dominate hand.
So if they are right handed and set more than one card you'd want to
MST
the card closest to their dominate hand because they will most likely want it to be in easy reach.
Try to Determine what the Set Card is: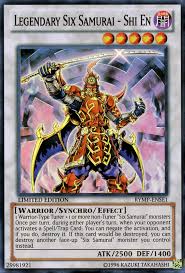 Remember:
Six Samurai run a lot of traps to protect Shi En
_________________
If you have any questions or need advice on anything, even to a personal level please reach out and email me. I'd be glad to help you in any way possible.
tma.karizmo@gmail.com